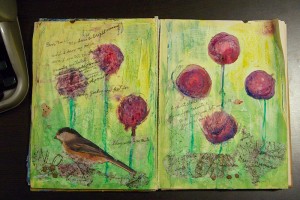 I've been thinking about my Grandma a lot this week, Grandma Duck (nee Monica Gertrude Colby, Sept. 2, 1920), my last remaining grandparent. We grew up next door to each other, on the farm in Ontario, so we spent a lot of time together.
Earlier this week, I thought I was going to lose her, though her condition seems to have stabilized now. At 90, I have lost touch with her. We are worlds apart now. But of course I was flooded with memories this week. Looking out the window at our house, I noticed the neighbour planted some of those purple flowers that look like lollipops, and I remembered Grandma having some of those. Often during my visits with Grandma, she would take me on garden tours of their "border," the extensive decorative garden that ran along the white picket fence.
We also spent hours watching birds out the window. Grandpa and Grandma always had a running tally of how many birds they'd seen that day of each breed, and would give me the status report upon arrival. Eleven chickadees,  4 nut hatches, 5 red-breasteds, 7 finches, 1 goldfinch, 3 blue jays, 2 female cardinals, etc. I found a letter she wrote me in 1999, when I first moved to BC, and she included the bird visitors that day, including two new "editions" to the bird feeding board, two chipmunks named 'Herky Jerky' and 'Patches.'
On tonight's book pages, I was inspired by those purple flowers. I traced Grandma's letter onto velum and gelled it onto the piece. My memories of Grandma are yellow and happy, because we spent many happy hours in the sunny plant room, the kitchen was yellow, she wore a yellow hooded rain jacket, etc. I used to sit at the desk there and draw and make my earliest books, before I knew how to write.
To Grandma, with love, thanks for all the happy memories.